NEWS
08/2022 - as part of the program "NEUSTART KULTUR - DMR Stipendienprogramm" I will get a financial support starting in September 2022, with the goal to experiment on a new conception of my own musical language, combining acoustic guitar, electric guitar and sound effects.
---
SAVE THE DATE!
10.09.2022 - CD-Release concert in Berlin at Cafe Theater Schalotte.
---
04/2022 - making the music of "Mujer", a dance-theater piece produced by RambaZamba Theater.
---
25.3.2022 - Release of the album "Book of Bridges" with Beatrix Becker Trio, where I had the opportunity to record for the first time with my custom jazz guitar.
cello: Rebecca Carrington
jazz & acoustic guitar: Nikos Tsiachris
bass clarinet, clarinet, piano: Beatrix Becker
---
20.3.2022 - new video "Primavera en Berlin"
video & audio recording: Marko Jovanovic
sound mixing: Rubén Garcia
---
03/2022 - album review by Guido Diesing for JAZZTHETIK magazine
---
03/2022 - portrait article by Rolf Beydemüller for Folker - song, folk & world magazin
---
16.12.2021 - radio-feature by Katrin Wilke on Deutschlandfunk Kultur
---
10.12.2021 - album review by Claus Volke for hören & fühlen
---
10.12.2021 - Release of my second flamenco album "Primavera en Berlin", containing eight original flamenco pieces.
percusion, drums: Bandolero
palmas, jaleos: Amara Carmona
guitar: Gabriel Lorente
bass: Tom Auffarth
oud: Alaa Zouiten
vocal: Morenito Hijo, Juan Cárdenas
violin: Roland Satterwhite
electric guitar: Rüdiger Krause
alt saxophon: Jan von Klewitz
---
6.12.2021 - new video "Cosas de Jerez"
video & audio recording: Marko Jovanovic
sound mixing: Rubén Garcia
---
11/2021 - I got a three month scholarship program by GEMA, with the goal to compose/arrange music for flamenco guitar and string quintet.
this is a video-trailer of a composition I am currently working on, using Sibelius and NotePerformer.
---
24.9.2021 - Release of the album "Onwards and Upwards" with Guitar Celebration.
 acoustic guitar, dobro: Ian Melrose
jazz guitar: Rüdiger Krause
flamenco guitar: Nikos Tsiachris
---
May 2020 Tour is supported by the Senate of Berlin.

24.04 Frankfurt
13.05 Berlin
15.05 Baruth/Mark
16.05 Braunschweig
17.05 Jena
18.05 Abensberg
21.05 Leverkusen
22.05 Bad Marienberg
23.05 Rauhenebrach
20.06 JazzBaltica
02.07 Schloss Lübbenau
06.09 Zeuthen
---
Rasgueo´s music is trying to achieve a balance between jazz´s intellectuality and flamenco´s emotionality
---
Rasgueo´s second Album
The second RASGUEO album, Echo, is out (Galileo-MC). Nine original compositions and an arrangement of Isaak Albeniz´s ASTURIAS. Recorded, mixed and mastered at rbb-Studio Berlin by Maria Suschke (Sound Supervisor), Bernd Bechthold (Sound Engineer) and Ulrich Hieber (Digital Cut). Produced for Kulturradio rbb by Ulf Drechsel.
BIO
---
Nikos Tsiachris is a guitarist and composer living in Berlin.
He was born in 1979 in central Greece and grew up in a small village. Being his father a passionated self-taught guitar player, he grew up listening to guitar music long before he started playing the guitar. Having access to many theory books, music scores and cassette tapes, he began at age of eight studying music and guitar at home. He entered the Municipal Conservatory of Lamia at age of fourteen and in the same year made his first public performance at the student guitar competition of the Volos international guitar festival. In 2001 he graduated classical guitar from the New Conservatory of Music of Thessaloniki. He also held a degree in Musicology from the School of Fine Arts of Aristotle University of Thessaloniki.
In 2003 he received an Erasmus Scholarship and visited Andalusia
He spent one academic year studying flamenco guitar, first in Granada and then in Sevilla and Jerez. Since then he was visiting regularly Spain and had several private classes by Rafael Habichuela in Granada. Moving to Berlin in 2005, he made soon a name for himself on the city flamenco scene. In June 2012 he founded "Rasgueo, a flamenco-jazz quartet formed by Martin Auer (trumpet), Martin Lillich (bass) and Diego Piñera (drum), all three being well-known and influential musicians of the german jazz scene. He composed the music for the first quartet album (Waterfall, 2015, Galileo-MC) and performed in several german jazz clubs. The second quartet album (Echo, 2018, Galileo-MC) was released in February 2019.
Following the tendency of modern flamenco guitarists, he composed nine original guitar pieces and produced a more personal album.
"Alcance" (2017, Galileo-MC) was made in collaboration with eight great musicians, among them Bandolero (percussion) and Yelsy Heredia (bass), both of them having an international reputation. In 2018 he formed a flamenco trio with singer Juan Cárdenas and bassist Tom Auffarth, both of them well-known german-based flamenco musicians and performed in german concert halls and festivals. He is actually producing his second flamenco album, based again on modern guitar own compositions. Besides composing and performing his flamenco music, he is a regular member of other music projects such as: guitar trio "Guitar Celebration", with Ian Melrose (finger style) and Rüdiger Krause (jazz), with whom is going to recorded an album in upcoming summer, flamenco dance company "Dulce Amargo" and klezmer ensemble "Harry´s Freilach".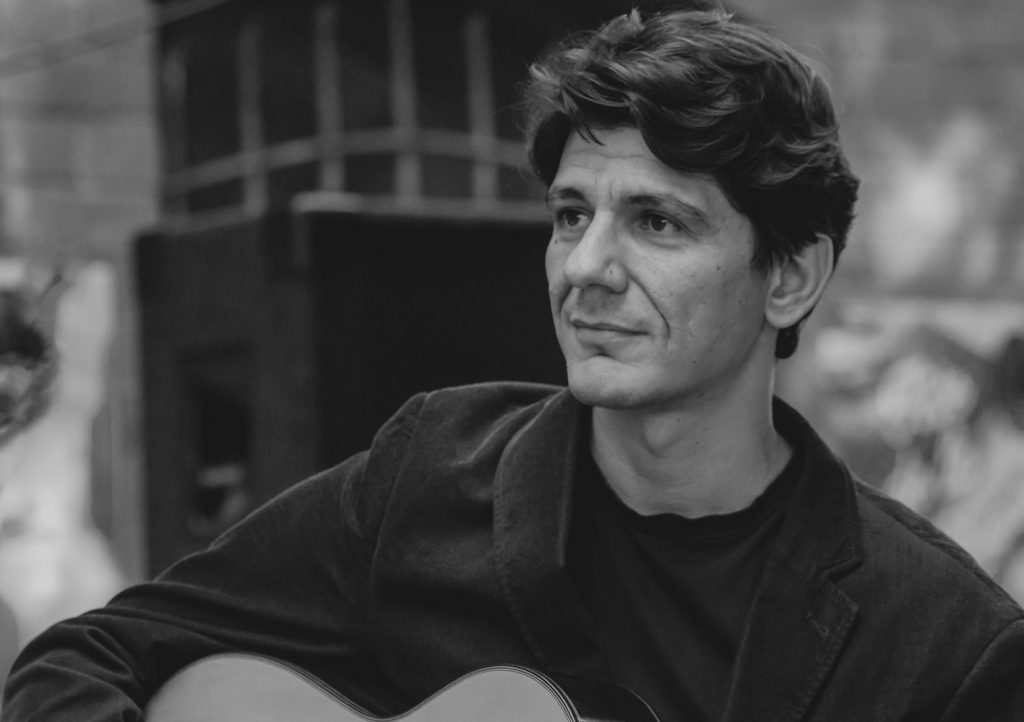 Nikos Tsiachris wächst in Griechenland auf und beginnt im Alter von acht Jahren, Gitarre von seinem Vater zu lernen.
Unterricht für Gitarre und Cello an der örtlichen Musikschule führt schließlich zum klassischen Studium am Konservatorium, dazu kommt das Fach Musikwissenschaften an der Universität in Thessaloniki. Die Klassik bleibt nur kurz die erste musikalische Heimat, ein Erasmus-Stipendium führt 2003 nach Andalusien und endgültig zum Flamenco, der bis heute sein Schwerpunkt ist.
2005 lässt sich der griechische Flamenco-Gitarrist in Berlin nieder, wo er 2012 die Band Rasgueo gründet.
2015 erschien das erste Album von Rasgueo "Waterfall" und 2019 das zweite Album "Echo", beide unter dem Label Galileo-MC und jeweils mit Musik die von Tsiachris komponiert ist. Während die Band eine Fusion aus Flamenco und Jazz bietet, widmet sich der Gitarrist solistisch dem modernen Flamenco. 2017 veröffentlicht er sein viel beachtetes Solo-Album "Alcance", das vom Songlines Magazin mit dem Prädikat Top of the World ausgezeichnet wurde. Aktuell bereitet er sein zweites Solo-Album vor ("Primavera en Berlin"), dessen Veröffentlichung voraussichtlich für Herbst 2020 geplant ist.
2017 stößt er zum Gitarrenquartett "Four Styles".
Neben zahlreiche Auftritte deutschlandweit, nimmt er mit dem Quartett das Album "Cuatro Estílos" auf. 2020 beginnt er mit einem neuen Gitarrenprojekt zu touren; Guitar Celebration ist ein international besetztes Trio und sein Repertoire erstreckt sich von Klassik, Jazz, Pop über Rock, Blues bis hin zu Flamenco und Weltmusik.
VIDEO GALLERY
---